Recommended functions and elements of the shop
Clothing is a business branch which constitutes a substantial part of e-commerce. It also has some special requirements for product presentation and interaction with a client. A list below consists of issues to be considered while preparing for the order and the implementation of an online clothes shop. It is worth mentioning that IdoSell was created with the general aim of selling clothing and footwear. This distinguishes us from our competitors, who were often set up in order to run a particular bookstore or a computer shop. Thus, every detail of the system has been created with the focus on sizes, variants, different prices for sizes, the possibility to present different pictures depending on the variant etc.
Good photos
High-quality images and thumbnails are absolutely crucial in clothing store. Chiefly, when we think of a special purpose clothing, like sports or tourism, where certain product parameters and characteristics are also important. In case of casual and evening wear, a photo is the first and the most important selection criterion. The higher the price of clothing, the better the image quality should be. The proper exposure is of equal importance. Every clothes shop should include large, clear thumbnails with the possibility to zoom photos. In exclusive shops we recommend an unusual way to zoom and present clothes. Additional photos of product details, photos of models presenting clothes, arranged styles and even short films with models, will increase the attractiveness of your shop, stimulate clients' imagination and may trigger purchase decision. While preparing photos make sure that they are of a very good quality, well-lit, made on a white background and preferably with models.
Size chart, measurement guide
Properly prepared size chart with understandable instructions for measuring and adjusting the size to one's figure increases the confidence of customers, reduces resistance of making online purchase and limits the number of returns. Size chart and instructions are especially important for clothing from limited series where designers launch limited series and single models. In this case it is crucial to prepare individual measurement guide for specific brands and types of clothing. If you sell sportswear, streetwear or well-known brands which conduct mass-production, there is a good chance that a client already knows own size therefore universally prepared size chart, without the measurement guide, will be sufficient.
Our specialists can prepare attractive size charts and measurement guides, enhanced with graphics. You can order them together with the implementation of the entire mask or later, while introducing new producers and products to the offer.
Typical sizes and searching by size
In the paragraph above we are dealing with clothing that is sewn according to models imposed by the market or popular brands. It definitely makes it easier for clients to find the right size. This type of assortment gives customers the opportunity to try on clothes, determine the size offline and then do online shopping. The function of searching by size and filtering a product list in a given category, based on the availability of a given size, would also be helpful for clients. In the end, no one decides to purchase clothing in the wrong size, even if they really like a particular item. Therefore, a clear indication of availability in different sizes, the best if presented on the product list, is also very important. Our designers can prepare the appropriate way of presenting such information in order to make them more transparent and useful, also for customers using mobile devices.
Color versions
Usually mass-produced clothing is available in several colors. It is always the case of underwear, T-shirts, pants, hats, or in case of sportswear. We enable different ways of colour versions presentation, which partly depend on your preferences and a product type. The first option is to show all the colors as separate items on the product list. The second way is to show one representative color on a product list, together with the information about different colors of the same model. We recommend the second method which requires an appropriate design and a way of encoding your shop. So, if you are selling a product where one model is available in many colors, be sure to order such function.
Filtering products by color is yet another case. This function will be useful in most clothes shops with large and medium-sized assortment. It allows a customer to narrow the list of the browsed items only to those available in a particular color. Is is very useful if someone is looking for accessories which would complete the look, for example a tie in blue or dark blue.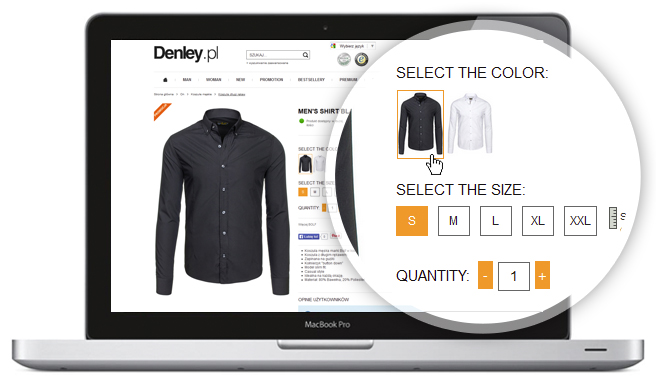 Lookbook, styles
A great way to build your brand and create trends around your own assortment is to have a Lookbook in your shop. This allows you to easily assign prepared styles with references to the featured clothes. This way, a client may be convinced to buy more than one piece of clothing or even a whole set of clothes and accessories. We can prepare for you an individual way of set and styles presentation, based on the ready-to-use mechanisms of our service. Thus, you will gain a unique aesthetic effect, keeping practical functionality in the panel.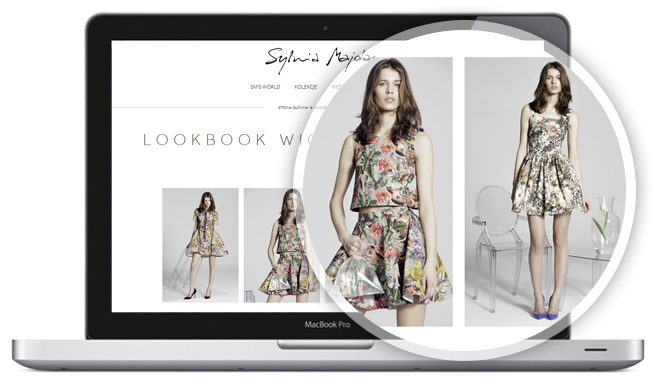 Returns
Returns are now an indispensable element of online transactions. The best online clothes shops use this element to their advantage and use returns to build positive and lasting relationships with customers. Easy and, even better, free return procedure constitute a huge asset boosting confidence and answering doubts of customers. As a part of your shop implementation, you will get a module of automatic returns generation in the system by a customer, the mechanism of creating a ready-to-print address label and a return form, as well as an option of a refund method selection. What is more, we will propose different options of placing information about a return in a visible place of your shop, for example in the form of a banner. We can also prepare templates of printouts (returns manual, return form) which you may put in the package sent to your client - it will make an even better impression at the moment of receiving the order.
Special offers, sales, new collections
Supplies of new collections and sales of old collections constitute inherent elements of clothing business. It is therefore essential to implement elements presenting products in a special offer or on sale, as well as presenting the new in. Apart from special feeds displaying such products, it is worth to prepare small but eye-catching markings on the list of searched products. A clear exposition of earlier, crossed out prices and percentile value of reduction is also important. This type of markings will work particularly well for clients. The best way to inform about sales and new collections is sending e-mail newsletter. It is worth to reserve a certain amount in the budget to regularly order attractive, graphically adjusted newsletters which will encourage customers to re-visit your shop. This is the first step to buy something from a special offer. These types of additional services can be ordered in our graphics department either regularly or ad hoc.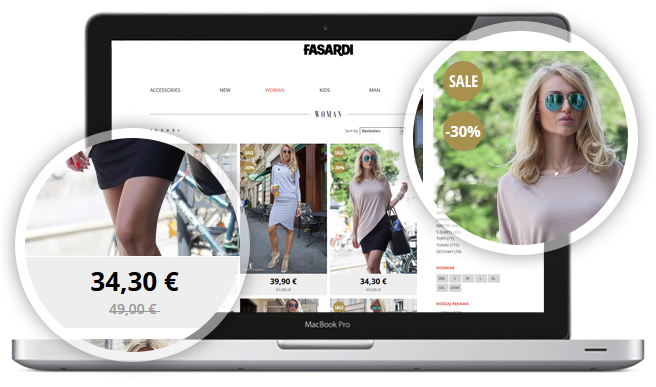 Advertising and decorative banners
When designing a clothes shop, we focus primarily on the maximum exposure of product photos and minimalist graphic style. Graphic banners play an extremely important role in such style. Their quality is as important as product quality themselves. Thanks to the properly prepared and attractive banners on the main page you can effectively promote a new collection or inform about sales. During your shop implementation it is advised to order a starting banners package. It is also worth saving some amount of money to order banners for the next few weeks and upcoming marketing campaigns.
Intelligent recommendation system - IAI RS
In the fashion-related industries there are no clearly defined complementary and substitute products. If you do not hire a stylist who builds connections between products, it will be very difficult to use all sorts of upselling mechanisms. Shops which do not create their own lookbooks, styles and sets will gain enormous help through intelligent recommendation system, IAI RS. It examines preferences and behaviors of other clients and, basing on this knowledge, builds recommendations. What is more, it also takes into account the history of browsed products and used filters. As a result, the system is able to increase sales by up to 15% for the same number of visits.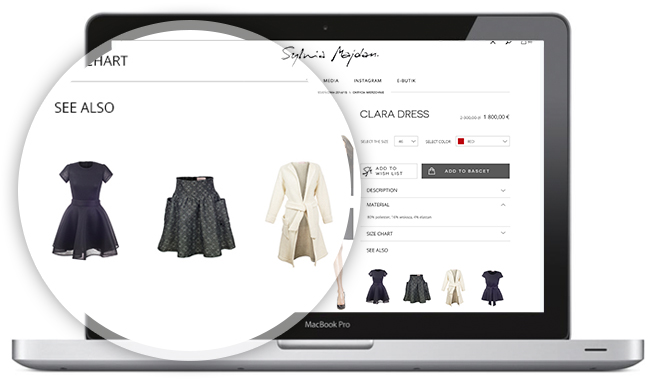 Responsiveness
Nowadays mobile devices are widely available and permanently connected to the Internet. As their popularity grows, your shop has to be accessible and friendly on tablets, smartphones, as well as on a home computer. The customers receive your e-mails, newsletters and browse special offers on their smartphones. Availability of a mobile shop allows them to add products to the cart or to favourites and to finish shopping at home on a laptop, or show the item to a partner or a friend.A good clothes shop is a complete system, where classic online shop is completed with a mobile version, a mobile application which can be installed on a customer's phone, and e-mails and newsletters which are adjusted to be read on mobile phones. Our specialists will offer you all of these solutions and advise you which elements work best in different versions of your shop. You can choose between a separate mobile and classic shop, and one responsive (RWD) shop front. In IdoSell we implement various mobile solutions depending on your needs and budget.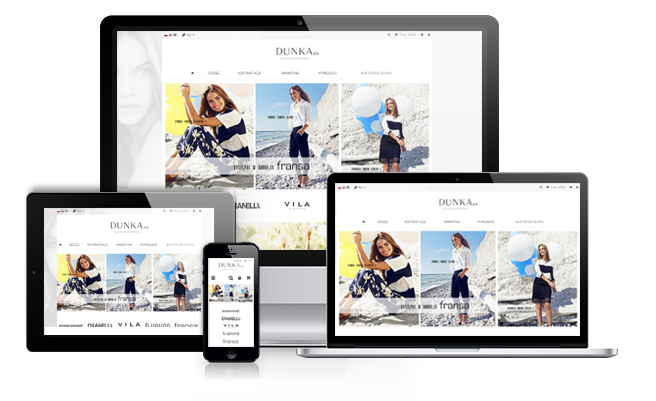 Recommended implementation package
If you would like to include the above described features and components in your shop, we highly recommend choosing a SUPREME implementation package. You can think of reserving a part of the budget on a regular commissions for new banners advertising the latest collections and sales. We recommend setting a regular schedule to determine the availability of a graphic designer and to prepare the necessary banners, newsletters and other promotional materials.
How to prepare guidelines
Guidelines which you will prepare for valuation and implementation of your shop should include pieces of information essential for coders and designers creating your shop. At first, supply us with logo of your shop in a good quality or determine the name of the shop and the style of your logo. If you have preferences concerning a color of the logo and the shop, be sure to inform us about this at the very beginning.
Another basic information concerns the type of your assortment and to whom your products will be addressed. Do you sell expensive or relatively cheap clothing? Determine the type of assortment - well-known brands with unified size chart (for example sportswear) or sophisticated products, such as items from particular fashion designers, coming in small series. Will it include only dresses and skirts or maybe shirts, trousers and accessories? This will help to properly plan the way of presenting information about sizes and their availability, as well as search tools. For some shops it will be important and helpful information, while for others it will be just the information noise and lack of transparency. Let us know which solution will be the best for your shop.
Send us a set of photos for some products in your offer. It would be the best if you sent us photos of products of various types to be representative of the entire shop offer. Our graphic designer will take into account appropriate backgrounds and proportions of images and icons in the design of your shop.
Specify whether you would like to group products in your shop (coloristic variants), how many main categories should be in the menu and how many levels of categories you plan.
Add information about any elements outside the very shop front which you would like us to plan, for example banners, e-mail and newsletter templates, size charts, measuring instructions, etc.
Send us a sample description of a single product. Will it contain any parameters, or will it just include a plain text? Are there any important features that should be exposed, for example, fabric, destination, technologies used in, for example, sportswear.