Invest in your future. IAI - the best business partner and a guarantee of your success.
Time is the friend of the wonderful company, the enemy of the mediocre - Warren Buffet.
IAI Company Business Model
IAI Company provides the most advanced platform for Internet trading - IdoSell.com. Service is offered as a leased application in a SaaS model (Software as a Service). Since its beginning, the Company has been developing using only its own capital (not taking any loans or credits). IAI, despite its early stage of development, is now a fully efficient business organism, with a high rate of growth, generating positive cash flow and profits.
The target group of the Company are companies already trading or intending to actively trade on-line. The company, extending its offer to other market segments, gains new customers and obtains orders and commissions from current customers. Company's new projects - such as: POS, Fiskalizator, Bridge or Downloader - expand the market, in which the Company operates, by warehouses and a network of stationary shops. Thanks to these programs the companies, wholesalers and chain stores may quickly and inexpensively start their sale through the Internet, avoiding difficult and costly deployments and developments.
The IdoSell.com is used by one-person companies, wholesalers operating in entire country, large companies listed on stock exchange and distribution networks. Thanks to the wide range of capabilities to implement and adopt, IdoSell.com platform works well in companies of different sizes. Of course the most visible benefits of this service are for companies with a revenue of at least 100 000 per month, which use several sales channels - Internet and classical ones (wholesale, stationary stores, e-wholesale, a few e-shops, on-line auctions etc.).
Business model, on which the company is based, provides a systematic increase in revenue and a high financial security. The company generates a steadily growing cash flow, thanks to subscription fees and additional services commissioned by current customers. The process of renting the application - instead of selling it - has a positive influence on management, marketing and finance.
The strength of the Company is not based on the sale of a single-use license, but comes from hundreds and - in the future - thousands of customers using a one, uniformed service. Renting applications forces a constant commitment to quality, because the customer brings us profits as long as he uses our services. As a result we pay great attention to quality of our services, so that they remain the best possible offer on the market. License payments for renting the applications and additional services ordered by current customers are steadily increasing (with each new customer) and provide a reliable source of income. Innovative project management methods allow us to precisely define the costs of individual activities and thereby implement profits from each operation. With SaaS philosophy, a single employee can handle up to several hundred customers, so - in this case - revenues are growing much faster than spending which obviously translates into real profit.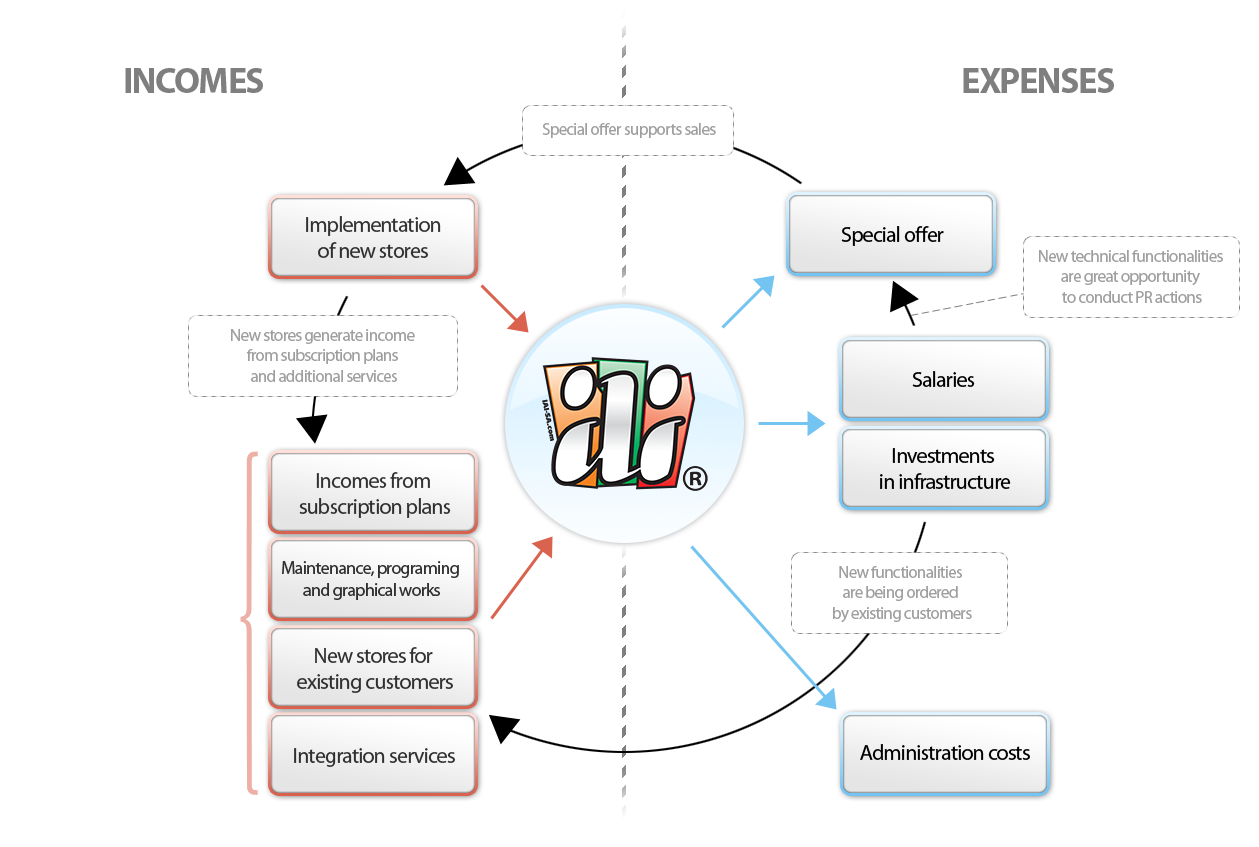 This schematic drawing captures the idea of Company business model. The income model bases on revenues from clients who bear the costs of implementations, using the Company services and their modification in IdoSell.com.
Core-business is defined as chargeable supply of applications, consulting, hosting and support for companies trading on the Internet. Customers pay not only for the shop maintenance, but also for the implementation, work on store graphics, other programming services and training how to use of them. The Company earns through bulk buying of competent staff time and then reselling it to its customers at a higher price, calculated on an hourly basis.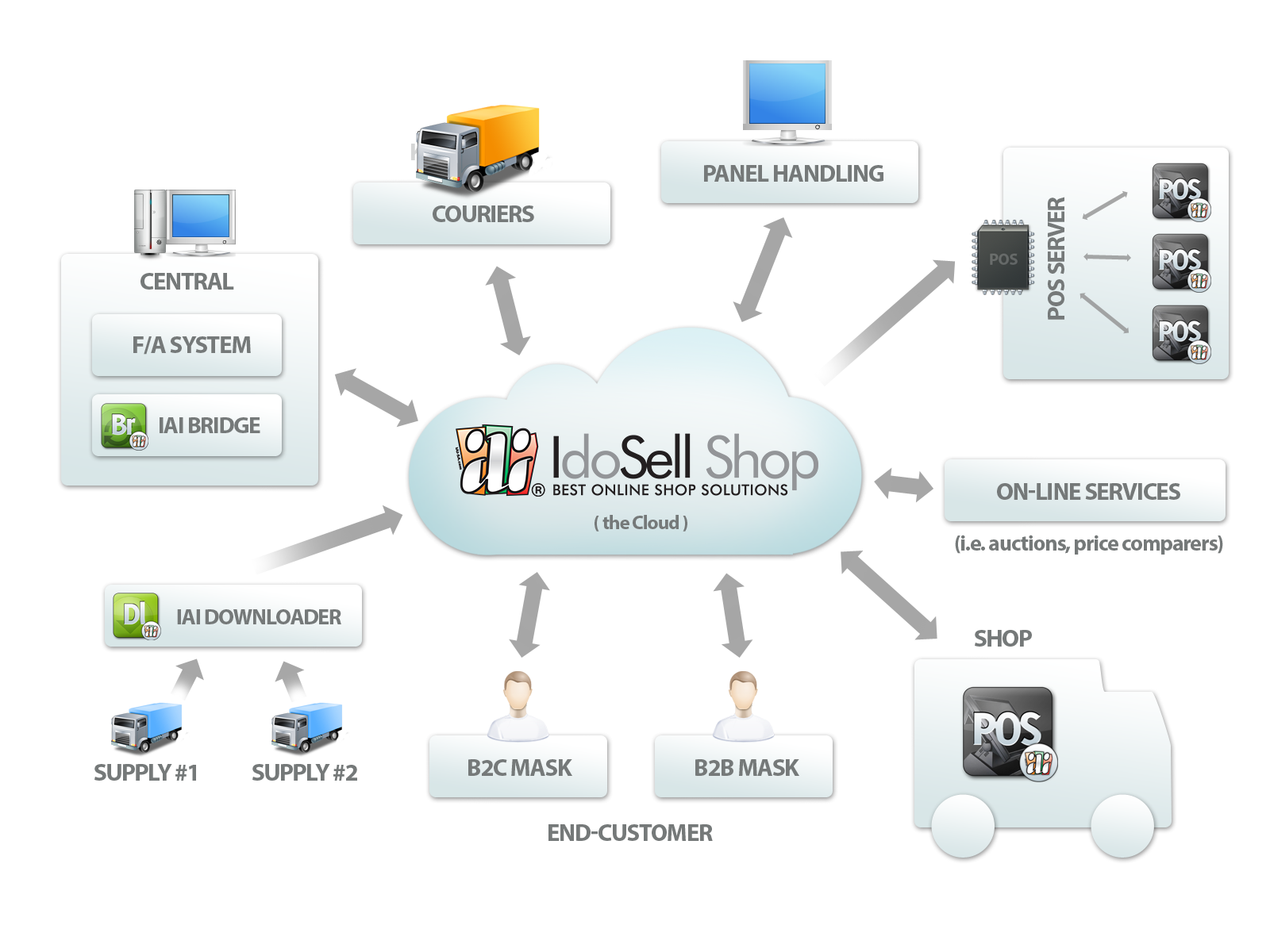 Offering software in a SaaS model based on software cloud schemes (cloud computing) is better than the so-called 'boxed product', because it always provides customers with the most up-to-date version of the software without having to buy and implement updates and bug fixes. In addition, the service is "all inclusive ", so the client does not need to look for hosting companies, creative agencies (which will be preparing the graphical changes), the IT company (which makes changes to client's system), because IdoSell is a complex service. Changes to the shop design or functionality are cheaper, faster and easier for client than in a situation when he would have to find a company that would take such a task on his own. Due to the fact that our company employs highly qualified employees, it can offer a higher quality at a lower price.
Company market environment
A synthetic analysis of the prospects for the Polish and the key European e-commerce markets is depicted below. Further in this sub-chapter, entities are indicated and described, which are now a competition for the IAI Company.
Internet trade in 2012-2015 will be 19 percent of total sales in the EU. The surveyed European traders predict that there will be more larger stores in 2012-2015, but they will be supported by a smaller staff and new technologies will be used in shops more often. Fast-paced development of Internet trading is not halted by the unfavorable economic situation. According to estimates in 2009, the value of e-commerce will increase in each EU country. Total number of Internet users in Europe will grow from 303.8 million in 2008 to 375 million in 2013. The eMarketer's analysis shows that the market for Internet commerce in Europe in 2007 was worth more than in the U.S. and will develop at a rate of 25% per year, which is an increase of 4 percentage points faster than in the U.S.
The EU countries that are commanding leaders in the field of e-commerce are Great Britain and Germany. According to forecasts, in 2012, e-commerce in the UK - including the sale of tickets for trips and events and paid content download from the Internet - has reached the value of 94 billion pounds. It's about 57.5% more than in 2008. In total, Great Britain will be have 73 million Internet users buying on-line, what will constitute 78.8% of people using the Internet. In Germany, the second largest market for e-commerce, at the end of 2008 the value of Internet sales - excluding ticket, financial products and travel services sales - has reached 13.6 billion euros. This represents an increase of 2.2 billion compared to 2007. For comparison, the value of Polish e-commerce in 2008 was estimated at about 8.5 billion złotys.
It is interesting that - despite the large revenue of the German market - a lot of new stores show up. Many German retailers have realized the opportunities offered by the Internet very late. 30% of the companies that have sold on the Internet in 2008, started the sale in 2007 or later. A large number of emerging Internet shopping companies is good news for the Company. It means many potential customers.
The IAI Company promotes cutting-edge technological solutions, which coincides with the expectations of European customers. Stable e-commerce development ensures the supply of customers and prospective market, so expansion into European markets is vital for continuation of the Company rapid development.
Poland is the largest e-commerce market in Central and Eastern Europe. The "E-Commerce from 2007 to 2011" report, published in March 2008, created by Internet Standard and Sklepy24.pl portal, presents on-line retailers forecasts of the e-commerce development. We read that: "Projections for the coming year sound very optimistic - two-thirds of respondents expect a dynamic growth in sales in the coming years and 30% of them - a moderate growth. Four of the 327 stores surveyed expect the stagnation, and only two are afraid of recession".
Analyzing changes in market structure in Poland and the information coming from customers, a pattern can be noticed - there is vastly growing demand for dedicated services for wholesalers selling via the Internet. Customers also pay more attention to advanced services and are willing to pay more for them.
Almost 90% of companies supplies on the Internet. More and more new companies are planning to open their stores. According to "Rzeczpospolita", companies that want to appear on the network, plan to start their own e-shop (almost 50% of companies). Every fifth company intends to create B2B trading platform for contacts with trading partners.
Fewer and fewer stores use the free or produced in-house software. Companies more often choose to purchase ready-made solutions. The costs of customization and software development within a commercial company is disproportionately high compared to the purchase or rental ready application.
The newest version of free scripts - such as osCommerce, PrestaShop or Magento - have not met with warm market reception. They enjoy a certain popularity because they are free, not because they are well rounded. Such systems have only basic functions, which means that they do not have significant requirements - both in hardware and user experience. Taking advantage of this simplicity and availability, creative or advertising agencies did their own minor alterations and started to offer them to their customers. It should be emphasized that those systems are not really free systems - maintaining an on-line store (hosting) or changes and amendments made by consultants entail further costs. Alternative to outsourcing the work, which would be expanding the store "on their own", is dangerous, if you do not have adequate programming knowledge and skills. Open source means that everyone can see "holes" in the store. Still many people who want to start selling on the Internet reach out to the above-mentioned simple and seemingly free software, but their numbers diminish with each passing year.
The big disadvantage of free systems is that they come from the U.S., and despite the creation of Polish language versions, they do not reflect the realities of the European Union. This manifests mainly in the lack of support for: delivery, courier services, VAT management. They are also created by many IT specialists from around the world, who very rarely run on-line stores, so many features of those systems are simply useless.
Large companies associated with the Internet also attempted to capture the free market system. O2.pl portal has launched its system - "Otwarte24.pl" - for handling e-commerce enterprises. The system was supposed to be free, but very simple at the same time. After a short period of software testing, customers have not shown much interest. All the shops were based on the same graphical template and operated in the Internet domain "Otwarte24". There is no information currently on the further development of this platform.
Commercial, chargeable systems appear to change the business model. Even before 2008, only one firm - competitive to the Company - offered a rental scheme (SAAS), and now each competitor has a similar offer in its portfolio. However, only the IAI offers a full SAAS service with a typical "cloud computing" and many more additional services - such as: support, helpdesk, applications support, server administration etc. Many companies offer their systems just for rent, not adding a complete (necessary) facilities. It should be noted that only the IdoSell.com is being run (from it's start) and developed in the SAAS model. IAI Company has the largest knowledge on the market about doing business in accordance with this model.
The market offers a lot of different systems, but none of them is as advanced as the IdoSell.com. Many companies have not been able to meet rising customer expectations. Many companies that have not been able to provide its customers with appropriate technical assistance have been dropped or completely stopped to reckon on the market in the past two years. Several key players are left, and the process of market concentration is still in progress. The company estimates that less than 5 firms will remain on the Polish e-commerce software market over the next two years.
IdoSell.com is the only system which offers comprehensive solutions for on-line wholesale sites, and full stock management.
IdoSell.com is currently well ahead of the competition offering "cloud computing". The openness of the application (with API usage) and the creation of additional systems - such as: POS, Bridge, Integrator, Downloader - show clearly the technology gap that separates competition from IdoSell.com.