Reports and statistics
IdoSell Booking provides you with a wide range of report and statistics tools that help you learn booking habits of your clients.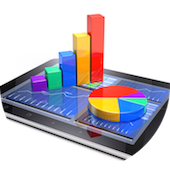 An integral part of any successful marketing campaign is a good understanding of your customer. Our priority is to increase your revenue – that's why we provide a comprehensive package of analytic tools that give you an inestimable insight into your customers' behaviour and company's performance. Thanks to IdoSell Booking, you will start planing your development and marketing in more informed way without spending hours on analysing spreadsheets.
Why Statistics Matter?
understand your clients – take into consideration all booking habits – discover what is the busiest booking period, find out which payment method is the most popular and where your clients come from – turn this insight into action and increase your conversion rate targeting the right customers
create a strong online presence – monitor your website traffic to see how viewers come across it and what the like the most, which pages get their attention and which are ignored – use this knowledge to improve your website's content and make the navigation more intuitive
overview your sales channels – learn when and where your offer sells the best, analyse the percentage of cancelled bookings to see what's your weakest point, judge which sales channel brings you the biggest profit – use all this knowledge to plan your next big move and advertise yourself in the right place
Tools:
Google Analytics- check how visitors found your website and what is their reaction to it, learn how many visitors convert into actual clients