Best online selling solutions
Product blog
IdoSell Booking
New optimized IdoSell website templates
To meet the expectations of modern, Internet-savvy users, web technologies are subject to constant changes and optimization. We constantly work to improve our website templates to deliver the best user experience. That's why we decided to completely rebuild the basic code structure and implement the latest optimization solutions. This time, we focused on the mobile first approach and page speed.
Research shows that the main factor affecting bounce rate is the page load speed. The new templates have undergone complete refactoring in terms of code optimization.

The new version of the template is a complete breakthrough on the market, setting the bar very high in terms of optimization and results achieved. It's the new norm in the IdoSell websites design.

The most important points to pay attention to are content render time (about 1.5 seconds), as well as the speed of page loading. The job we've done to achieve it:
minimizing server queries (by approx. 42%)
slimming files (by approx. 51%)'
minimizing the weight of JavaScript (by about 77%)
minimizing the CSS style sheet file (about 80%)
acceleration of JavaScript (about 33% faster!)'
As you can see, the achieved results are very impressive. Virtually every area shows a huge improvement, which results in the increase of the performance indicator (according to Google PageSpeed Insight) to the level of 98%.
WHY IS IT IMPORTANT?
At the end of July 2018, Google introduced an update to the Page speed algorithm and marked it as an important ranking factor in mobile search engines. The next change took place in November 2018, based on the Lighthouse engine rating.
This means the faster website works, e.g. on a smartphone, the higher it gets in the search engine ranking. Until then, the page speed was treated only as a Google recommendation. Since July, it has become a full-fledged factor, determining the site's place in the ranking of mobile search engine.
NEW TEMPLATE CODE STRUCTURE
Speed optimization isn't the only feature in the new version. A complete novelty is the reconstruction of the website code structure, in an extremely flexible S.M.A.R.T.Y.
Thanks to this, anyone who feels a bit of a developer can modify the website appearance on their own.
The code has been thoroughly organized and divided into "components". Enabling and disabling entire sections is now very easier than ever.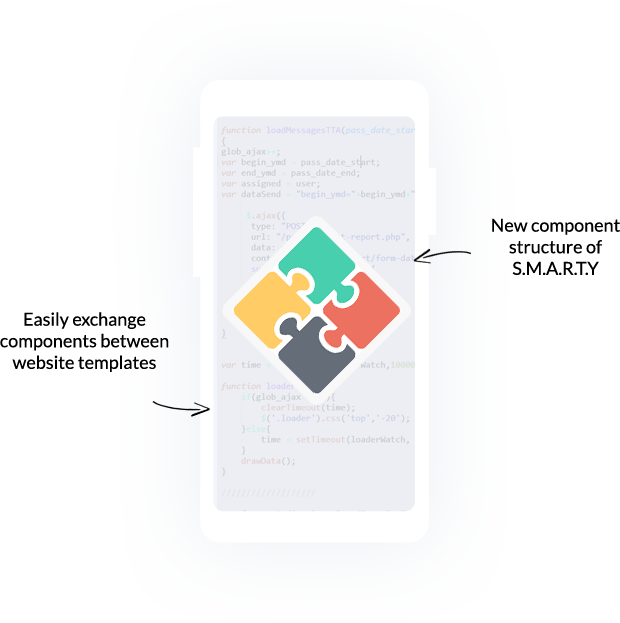 We are extremely proud of the achieved results. We are convinced that this change will have a huge impact on the functioning of future and current IdoSell websites, their position in Google search results, and above all on user satisfaction.

If you use an individual template and would like to implement the improvements, please be advised that due to the refactoring of the code structure, we recommend carrying out a full redesign. You can request such changes via the Customer Service Center.