International sales in online shops
As a comprehensive solution, IdoSell Shop provides you with well-conceived and functional tools. We offer you a wide selection of ready-to-use functions which enable you to export products and services, as well as successfully develop them. From the simple strategy of expansion through marketplaces and the creation of a strong brand on new markets.
Changing market realities, globalization and tightening trade bonds between countries (not only neighboring ones) - all these factors make the above question invalid. Expansion to foreign markets constitute an inevitable stage of business development. This opens new possibilities of gaining profits, but also creates new, interesting challenges. You need to provide a multilingual staff, translate descriptions and learn more about realities of a given country, like popular couriers, price comparison sites or payment systems. You can also take smaller steps and start selling through, for example, listings or Amazon. We know the challenges that online stores need to face. However, we have experience on international markets and we incorporate this experience into a wide range of our ready-to-use services. Just use them!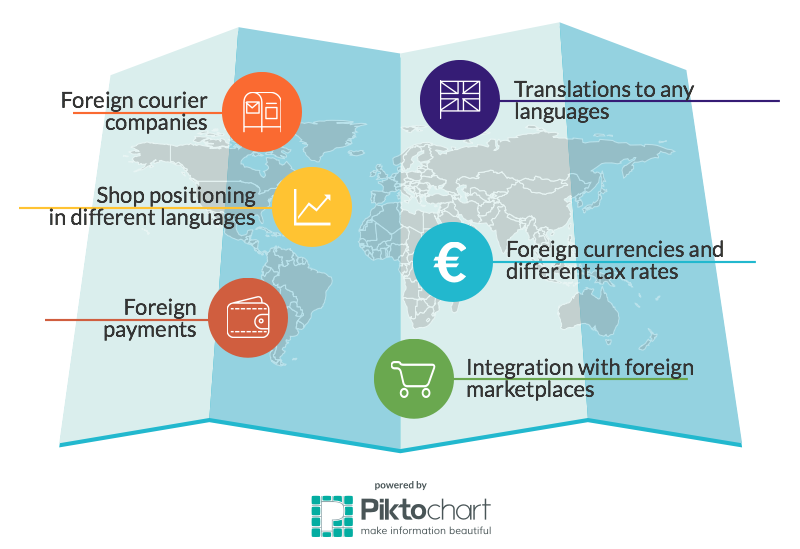 Tools necessary to conduct effective international sales
Online store translation to any foreign language
Supporting multiple languages and translation to any language in the world (including languages written from right to left - such changes, however, are more time-consuming, so consult our graphics department) - you can prepare translations yourself.
Foreign currencies support
Configuration of currencies in which you would like to conduct sales. Use the automatic conversion rates or determine them yourself.
Support of documents in multiple languages
The mechanism of creating your own printouts to prepare, for example, sales documents in accordance with the legal requirements of the country.
Multilingual communication
Multilingual communication with clients by using e-mails and SMS - all templates may have as many versions as languages in the panel. The same applies to newsletters, triggered messages and others which you can send to customers.
Marketplaces
Sales in all eBay services, putting up products in Amazon, integration with Google Shopping and Google Rich Snippets.
Support for payment systems and couriers from different countries
A proper selection of payment methods offered in shops and a convenient management of payments from various sources is possible thanks to the integration with local and international payment systems.
Ecosystem translated into English
IdoSell Shop puts an end to systems in which translation deficiencies in the interface are made up by additional work of people. We also offer supporting applications available in various linguistic versions.
Multishop
Many shops in one administration panel are a perfect solution if you want to run shops fully adjusted to a given country on the basis of one product database. It is also a great way for conducting sales in different languages - each store can be translated into a different language. You can also delegate separate national domains, for example .de, .co.uk, .ie, etc.
Online store tailored to your needs
Online store shop front in compliance with your aesthetic requirements, according to the latest trends and customer habits in a given country. Taking care of all the details, IdoSell Shop even has a function of adjusting to the culture of a given country, eg. when formatting amounts. In addition, STANDARD shop fronts are available in several languages for free.
These and many other tools and functions available in IdoSell Shop allow you to construct complex (as well as simple) strategies for development and sales. The number of combinations is virtually unlimited - invent your own and we will help you to implement it.